Nemanja Matic tells our senior reporter Tim Thornton he thinks Manchester United will challenge for the title next season and Harry Maguire is worth his place in the England side.
In an exclusive interview in Rome, Matic also explains how Chelsea will need to balance their squad next season, and why Mauricio Pochettino could be a good fit to take over as the Chelsea boss.
He talks about Jose Mourinho's relentless pursuit of success, why he's surprised Chris Smalling isn't in the England squad and reveals if he owned a big football club, he'd want to sign Jude Bellingham.
Matic also discusses his ambition to become a Premier League manager…
'He's more experienced but Jose never changes'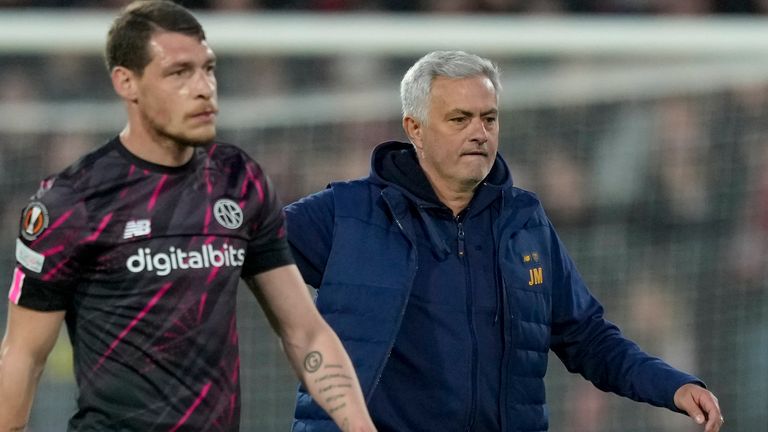 We are coming towards the end of your first season at Roma. How much have you enjoyed the challenge of playing in Italy?
"I really enjoy it here. I like the club, I like the conditions that we have to perform so I'm very happy. We play some good football.
"We are fighting for the top four in the league and we're also in the semi-finals of the Europa League so I'm looking forward to the end of the season and we'll see what happens."
It is the third time you have played under Jose Mourinho. Can you give us an insight into what it's like to play for him?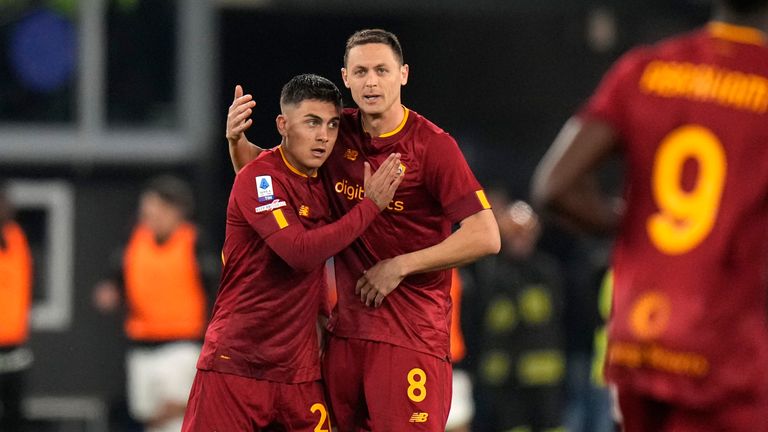 "He's a fantastic manager who has won so many trophies. He always wants to win more and. I have to say that I'm proud to play for him. Sometimes it is not easy, he's never happy and always wants to win more and wants you to improve every day, but I like that."
He is more experienced now. Has he changed from Chelsea, to Manchester United and now Roma?
"He's more experienced but Jose never changes. It depends on the situation and the players he has in the team, but he knows very well his job.
"When you know him well he's funny, and every player that plays under him will say the same."
He recently took charge of his 100th game as Roma boss. He won the Europa Conference League last season, how big an achievement would it be if Roma were to win back-to-back European trophies this season?
"I think that would be something amazing and we'll all do our best to achieve that, because we have the best supporters in Italy and they deserve that."
How big a part has Chris Smalling played in the success at Roma and are you surprised that he's not to be in the England squad?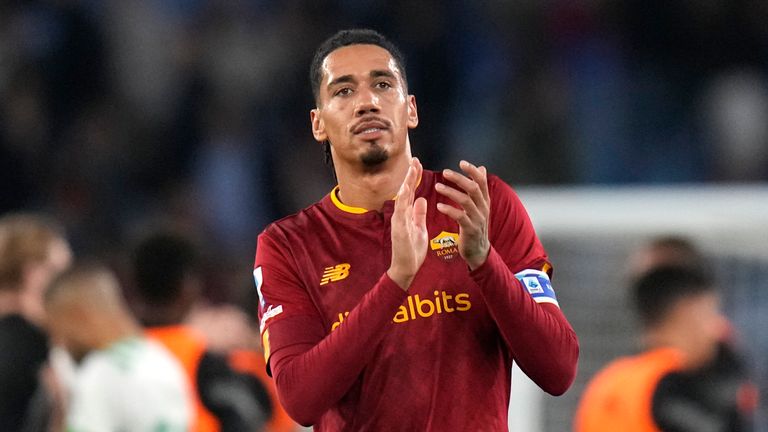 "Chris is a fantastic player, very experienced and for me he's one of the most important players in the team. I'm very surprised he's not in the England squad, but the manager chooses the team.
"For our club it is better he has more time to rest during the international break. He's doing very well here, everyone loves him and he's a great professional and a great player. He's a great man off the pitch and I'm very happy to be sharing a dressing room with him again."
Tammy Abraham had a terrific first season but has found it more challenging this year. Is he still improving, still getting better?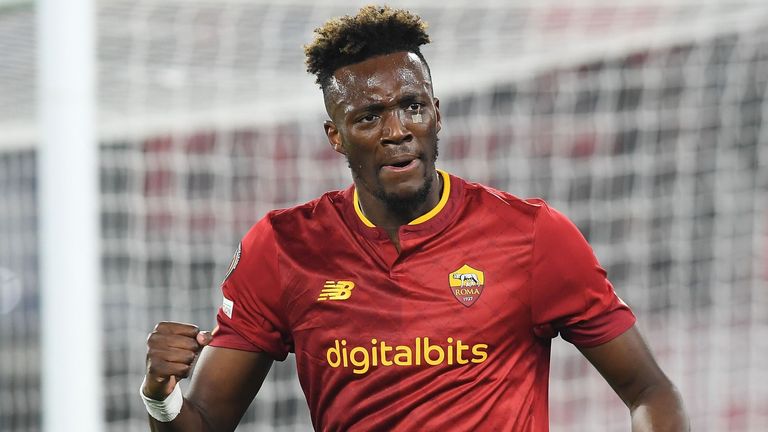 "He's a young players who is still improving. He's not scoring like he did last season, but everything can change in the last month. Now we have the most important games of the season and he just needs to believe, continue to work, and the goals will come."
You played for two of the biggest clubs in the Premier League in Manchester United and Chelsea. How do you reflect on that time?
"I'm very proud to have represented two of the biggest clubs in England. I lived the dream playing in the Premier League for Chelsea and Manchester United, it was a great achievement. I will always remember those clubs in a positive way and they have a special place in my heart."
It has been a period of change at Chelsea. What do you make of this transitional period and will the new manager require time and patience?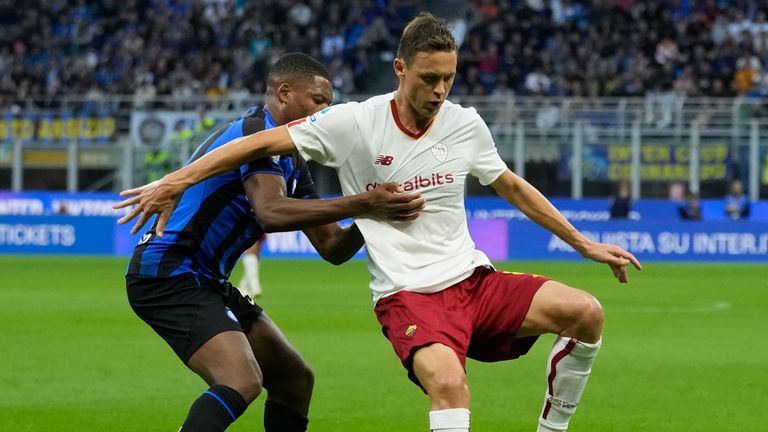 "I think so. I have to say Chelsea did a great job signing so many talented players, but in the future, next season, they'll need to make some balance between experience and young players. When you sign six, seven or eight young top talented players they all expect to play and that is a problem.
"Some will need time to adapt to the Premier League. They will need six more months or one season to adapt, but during that transition the experienced players can help them. I think at the end of the season they'll understand what the problem was and they will try to change. Next season I expect Chelsea to be much better, but it is going to be very difficult."
Mauricio Pochettino with his Premier League experience. Would he be a good fit?
Stephen Warnock and Sue Smith react to Harry Kane's post and pre-match interviews after Spurs' defeat to Liverpool and where he could go next.

"He's a great manager. He showed at Spurs and PSG that he can play some great football. He has experience and I know he's very professional and a very honest person, so why not?"
What do you make of the job that Erik ten Hag is doing at Manchester United?
"I like the way he wants to play, I like the way United are playing. They have had some ups and downs and that is normal with a new manager. But I'm happy with how they have progressed and I think next season they will fight for the title for sure. "
Marcus Rashford had a tough period last season but he's come back and been in sensational form this season. Has he surprised you with his form?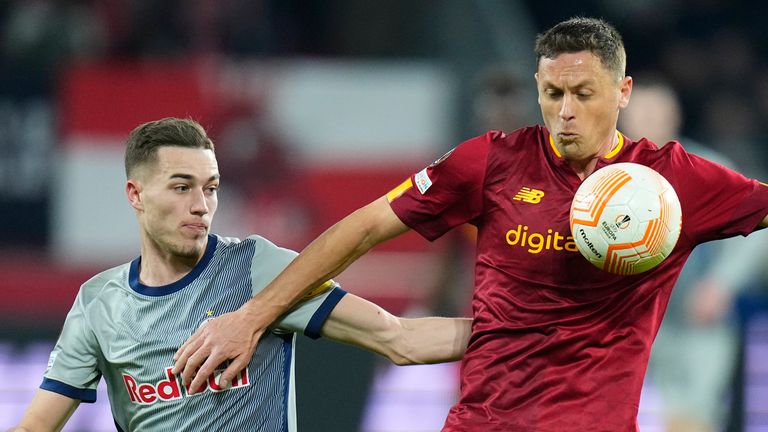 "He's young like Tammy, and if one season they aren't doing well it doesn't mean the next season they won't be the best on the pitch and that is the case with Marcus. For me, he's one of, it not the best United player. He scores so many goals and he just needs to continue. For one player to perform he needs the support of all the team.
"If United as a team are doing well then always one player will appear a star. The good thing is that the star is a striker or winger or midfielder. In previous seasons we had the star of David de Gea and if your goalkeeper is the star that is not good and you are in trouble.
"I'm happy for Marcus because he's a talented player and a very good person."
One player who does get criticised a lot is Harry Maguire. Can you see why Gareth Southgate continues to pick him for England and is a lot of the criticism very unfair?
"I can understand why he's playing for England because he's a great player. When he signed for United, in his first season he played almost every game and he was one of the best players. The problem today is that if you play two or three games not great, with social media, everyone criticises you and maybe that affected him.
"But he has to think only about his job because in football everything can change in a few weeks. His situation doesn't look great at the moment but he needs to be focused. He's very professional and we'll see what the future brings for him."
Two young players that are making a big impact in Europe. Firstly, Jude Bellingham, a midfield player like you. How highly do you rate him?
Jude Bellingham shows why he's in such high demand with a slick touch and finish to give Borussia Dortmund against Eintracht Frankfurt.

"I have to be honest, the games I saw him play he looks so mature for his age, a proper player. The games I've seen him he looks very good. If I'm the owner of a big club I'd like to have him."
And Victor Osimhen is another young player that has made a big impact in Italy this season. Is he a player that could be a big success in the Premier League?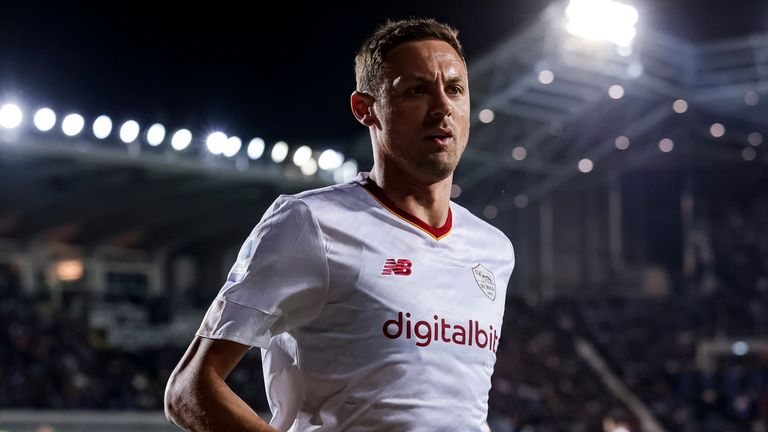 "If the team performs well it is easier for the attacking players to jump out and show his quality and be a star. Napoli are playing good football, Osimhen is scoring goals and when strikers score goals everyone talks about them, but no one talks about defenders and that is a problem for us at the back."
One striker that everyone is talking about is Erling Haaland. Do you think he can help Manchester City to win the treble?
Gary Neville discusses Erling Haaland's remarkable feats from this season after the Manchester City forward hit a landmark of 50 goals in all competitions so far during his incredible 2022/2023.

"I think so. I had a bet in our dressing room with Tammy a few months ago. He says Arsenal will win, I said City will win.
"They have everything in their hands. They have experience of playing those kind of games. One bad result can change everything but City have more chance."
And finally your own future, you are having a terrific season, but have you considered going into management in the future?
"I've already decided I will be a manager one day. I'm doing my coaching licence, but at the moment I'm very focused on playing football. I feel good, fresh, and I think I still have another couple of years in my legs.
"But for sure, I will be a manager in the Premier League."