COMMENT
The manner in which the adventure ended will take some getting over. Italy left Kiev in the early hours of Monday morning without the Henri Delaunay trophy amongst their carry-on luggage, having been handed a good old-fashioned spanking by the irrepressible Spain.
But once the initial regrets are washed away in a few days time, Cesare Prandelli and the FIGC will be able to see their side's Euro 2012 campaign for what it was always meant to be – the first step on the road back to the top. After the disgrace of their early exit from the 2010 World Cup in South Africa, this finals tournament has been nothing short of a miracle, giving real reason for optimism ahead of their next tilt at the Mondiali.
The negatives need to be learnt from and then immediately consigned to history. The positives are what need to be remembered and embraced, because there have been plenty. And if the right things are done to harness the newly-regained faith of the Azzurri faithful, then preparation for the trip to Bulgaria in September must begin almost immediately. Because that is the attitude that saw them exceed expectations this time around, and it will also be key if they are to be present in Rio de Janeiro in 741 days time.
First and foremost, if the tricolore is to be one of the flags on display on the Maracana pitch before kick-off on World Cup final night, Prandelli needs to stay in charge. His recent admission that he misses the day-to-day aspect of club coaching has put the frighteners up Italy fans, but if there is one positive to be taken from the 4-0 defeat to La Roja in Kiev, it is the sense of unfinished business. If teams give their very best and fall short, sometimes you have to admit you have done all you can, but the commissario tecnico will surely feel that he can learn from the events of Sunday night, which marked his first competitive defeat as an international coach, and complete the job he signed up for two years ago.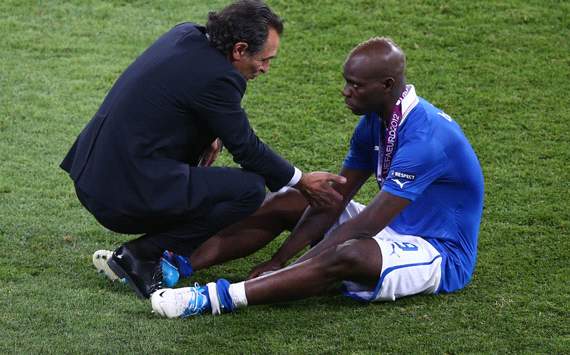 Prandelli & Balotelli | The two main keys behind Italy's push for 2014 glory
Within his squad, there will inevitably be some changes, despite the firm footing on which they have placed themselves over the past month. Looking beyond the turnover on the fringes of the panel, there will need to be some sacrifices in and around the first team too.
One thing that definitely should not change from the current set-up is the main focus up front. Mario Balotelli is the future of Calcio, and his importance to Italy over the coming years must not be underestimated. Antonio Cassano may well remain in the set-up, but if Giuseppe Rossi can make a sufficient return from his double knee injury nightmare, then he could well be the perfect second headache for opposition defences.
The next 24 months will also be huge for Sebastian Giovinco. If he can make his transfer back to Juventus a success, then a regular national shirt will surely follow. Stephan El Shaarawy could well become a reliable squad member too.
In goal, injury permitting, Gianluigi Buffon will remain. Emiliano Viviano is likely to force his way beyond Salvatore Sirigu and Morgan De Sanctis to grab the understudy slot, but it would take a phenomenal run for him to get even close to deposing the Azzurri skipper.
In front of Buffon there is a lot to ponder. Ignazio Abate has not quite proven himself as an international quality defender yet, and will hopefully face a strong challenge from Davide Santon for the right-back role in the coming months and years. Cristian Maggio may still serve some purpose as a wing-back, but he too has been restricted by his lack of defensive ability.
On the other flank, Federico Balzaretti will be 32 be the time the opening game in Sao Paulo takes place, meaning his body's ability to cope with the passage of time will have a big say on whether he can still step up to the mark come 2014. Domenico Criscito will surely re-enter the equation as first choice just so long as he is proven innocent of any wrong-doing with regards to the Calcioscommesse enquiries.
Centrally, Leonardo Bonucci has to go. His inability to spot and foil danger, even when superbly placed to do so, is lethal at the top of the international game, with just such a lapse handing Jordi Alba the killer second goal against Spain. Andrea Barzagli has not been a consistently excellent centre-half, but his form since signing for Juventus suggests he could well still be a mainstay come 2014, although it is likely to be his final tournament.
Giorgio Chiellini will return to the centre-back spot he fills so much more convincingly than the left-back role, while Angelo Ogbonna should be knocking on the door by then. Other candidates to monitor will include Marco Capuano of Pescara, Bari's Alessandro Crescenzi and Rubin Kazan's Salvatore Bocchetti.
In the engine room, much will depend on Andrea Pirlo. The regista has been the national team's heartbeat in recent times, but as he turns 35 just before the World Cup, Italy may have to come to terms with a less influential Pirlo. Of all of the options available should the Juventus man suffer a drop in form or fitness, Marco Verratti seems the best prepared to step up. The Pescara man was even called up by Prandelli in his original 32-man squad for the Euros, suggesting he is laying the groundwork for a gradual promotion to the big stage.
Beyond that, not too many changes should be needed. There may become a time when a serious question needs to be asked in the Claudio Marchisio versus Antonio Nocerino debate, but the AC Milan man needs to continue his great form at domestic level.
Ahead of them, Italy desperately needs a trequartista. Not Thiago Motta, not Riccardo Montolivo, but an actual trequartista. Neither have the tools necessary to change the course of a game, which is the key ingredient necessary from a true Italian No.10. There is a huge dearth of talent in this department, with Diego Fabbrini and Lorenzo Insigne – the best creative players to come through the Under-21 ranks of late – having often been shunted to the left for the Azzurrini.
Insigne should be nursed through in a similar fashion to Verratti, giving him every possible opportunity to make a smooth transition to the senior side, with Fabbrini a back-up if his game time at Udinese increases sufficiently over the next two years.
All in all, Prandelli has plenty to ponder, but also more than enough to keep him smiling. While he will not have any Del Pieros, Baggios and Tottis to choose between, he has a wide enough panel to suggest that the achievements in Poland and Ukraine can at least be matched.
So have a couple of down days, Italy. But then stick out your chests and show your pride once more. If La Nazionale play their cards right, it could be a feeling you will get used to all over again before long.