COMMENT
By Kris Voakes | Italian Football Writer

Italy are not exactly known for their tendency to hand out caps to teenagers, nor do AC Milan have a great reputation for shunning experienced heads in favour of starlets. But one player bridging the gap both domestically and internationally right now is Stephan El Shaarawy.
The 19-year-old forward made his Azzurri debut in the friendly against England in Berne in August and has since gone on a magnificent run of form which has seen him carry an ailing Milan side on his back. A run of five goals in 11 days has sparked a recent upturn in results that has postponed the death knell for Rossoneri boss Massimiliano Allegri.
Now his international coach Cesare Prandelli could be set to hand him a competitive debut in the famous blue shirt as Italy travel to Armenia for Friday's World Cup qualifier. But, even if he does not see any game time in Yerevan or at San Siro against Denmark on Tuesday, his 59-minute showing against England ensured that he joins a small band of Italians to appear for their country at senior level before turning 20.
But El Shaarawy's next job is to ensure that he replicates his recent performances for both Milan and La Nazionale for some time to come. Others who have in the past looked set to go on to bigger and better things have followed their Italy debuts with downturns in form belying their immense potential.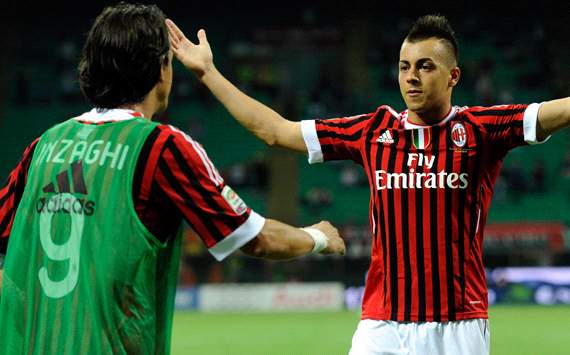 The Saviour | His form at Milan has been the one positive after a summer of key exits
Some players were destined for greatness from a young age. Giuseppe Bergomi was famously thrust into the unforgettable 1982 World Cup clash with Brazil at the age of 18, with only a single cap in a friendly against East Germany to his name. After performing admirably in the Paolo Rossi-inspired 3-2 triumph, the defender would go on to earn a World Cup winner's medal in only his fourth game for his country and later captained the national side to Euro '88 and at the home World Cup in 1990.
One of his defensive partners at Italia '90 was also his captain when he made a surprise return to the national side – after seven years in the wilderness – in time for the 1998 World Cup in France, as Paolo Maldini continued a glorious career of his own having also been a teenage debutant for Italy.
Though Maldini was never able to emulate Bergomi by winning a World Cup, he was a runner-up in 1994 and also at Euro 2000, before eventually hanging up his boots in 2002 as Italy's most-capped player at the time, with 126 appearances in the famous shirt. He remains one of the most storied defenders in football history, and it is seen as one of those quirks of fate that he would never get his hands on an international trophy.
Like Maldini, Gianni Rivera had been a teenage prodigy, a Milan legend and a Mondiale finalist, but he was also a part of the successful Euro '68 winning Azzurri side. And before him the likes of Giampiero Boniperti and Giuseppe Meazza had debuted as teenagers with the national team, with Meazza scoring a phenomenal 33 international goals on the way to becoming a two-time World Cup winner.
NOTABLE TEENAGE ITALIAN INTERNATIONALS
| | | |
| --- | --- | --- |
| 18 years, 103 days | GIUSEPPE BERGOMI | 81 caps, 6 goals |
| 18 years, 128 days | GIAMPIERO BONIPERTI | 38 caps, 8 goals |
| 18 years, 155 days | DAVIDE SANTON | 7 caps, 0 goals* |
| 18 years, 268 days | GIANNI RIVERA | 60 caps, 14 goals |
| 19 years, 170 days | GIUSEPPE MEAZZA | 53 caps, 33 goals |
| 19 years, 181 days | ROBERTO MANCINI | 36 caps, 4 goals |
| 19 years, 274 days | GIANLUIGI BUFFON | 122 caps, 0 goals* |
| 19 years, 278 days | PAOLO MALDINI | 126 caps, 7 goals |
| 19 years, 292 days | STEPHAN EL SHAARAWY | 1 cap, 0 goals* |
| 19 years, 363 days | MARIO BALOTELLI | 14 caps, 4 goals |
* denotes active player
Of course, Italy's most recent World Cup success was achieved with the help of another former teenage sensation, in the shape of Gianluigi Buffon. He made his international debut in a crucial play-off in the snow in Russia in 1997 and fulfilled his potential on the global stage by shutting out the opposition from open play as Marcello Lippi's side marched to glory in Germany in 2006.
But there is one recent example of a player who has not quite hit the same heights as some of his young contemporaries, as Davide Santon's career has seemingly reached an early crossroads.
Handed his Inter debut by Jose Mourinho just days after his 18th birthday, the full-back was immediately spoken about in the same breath as Maldini, with the mix of youthful exuberance and composure, along with the ability to play at left-back as a right footer, marking him out as an early contender for the berth in the national side that had gone largely unfilled since the Milan star's retirement.
However, while team-mate Mario Balotelli would go on to excel in the Italy side, Santon has struggled with injuries and form for large spells during the last three years. Since making his Azzurri debut in June 2009 against Northern Ireland, he has played only twice in competitive internationals, with the last of those coming in the dead rubber against Cyprus in November 2009, when Italy had already qualified for the World Cup in South Africa.
From such a promising prospect in his early days at Inter, Santon has suddenly become the warning for the likes of El Shaarawy and Marco Verratti of what can become of a young prodigy. His form since his move to Newcastle United last year has failed to reach a level sufficient enough to earn the call of Prandelli, despite an apparent lack of quality full-backs at the coach's disposal. Even during the recent controversial absence of Domenico Criscito, Santon's name was a long way down the pecking order of potential replacements.
So for El Shaarawy, and for Italy, it is of vital importance that the Milan forward can continue his current streak for years to come. If he can, the national side may well have another future legend in their ranks.
Follow Kris Voakes on